Zinc is a vital nutrient related to protein intake and blood clotting. This nutrient is also key in regulating inflammatory cell activity. It plays an important role in growth, as well as in tissue repair and wound healing. Adding zinc can be a good way to boost the immune system when you have the common cold or recurrent infections. It can also be helpful if you have certain other conditions including macular degeneration, asthma, diabetes, high blood pressure, AIDS/HIV and related infections or hyperbilirubinemia. Some people have also reported that consuming zinc supplements can help to prevent cancer.  Topical zinc can be used to treat acne and other skin conditions.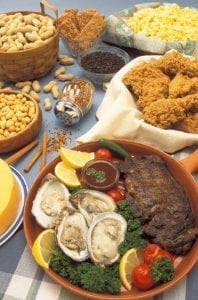 We get zinc from the food we eat. This vital nutrient is found in red meat, poultry, fish, dairy, nuts, legumes, and whole grains, as well as fortified foods.
Zinc is a mineral and does not function quite like a vitamin. We do not store extra zinc in our bodies, so it is important that we consume enough in the foods we eat or from supplementation. For more information on water-soluble vitamins, fat-soluble vitamins, or minerals, visit our Vitamins and Deficiencies blog.
Zinc Deficiency
Zinc deficiency is a factor in worldwide nutrition problems that lead to morbidity. In fact, in some populations, supplementation was linked with decreased childhood infectious disease. However, zinc deficiency is less common in the United States.
Deficiency in infants and children is typically due to inadequate dietary intake, or metabolic complications. It is uncommon in those infants and children in normal growth percentiles. Infants and children at risk of zinc deficiency are those in lower growth percentiles.
Deficiency Symptoms
Growth failure
Short stature
Nausea
Impaired immunity/resistance to infection
Slow wound healing
Skin disease or rough/dry skin
Impaired taste and smell
Primary hypogonadism
Zinc Toxicity
Zinc toxicity is relatively uncommon. This mineral is considered relatively non-toxic, though extremely high doses can cause toxicity. Zinc toxicity has been associated with copper deficiency, anemia, impaired immunity, and disproportionate LDL/HDL cholesterol ratios.
Toxicity Symptoms
Nausea
Epigastric pain
Fatigue/Lethargy
Toxicity in children is usually due to kids consuming a high dose of zinc supplements.
Keep all adult medications and vitamins far out of reach of children.  Do not leave pill bottles out or open and store them way above kids' reach.  Additionally, kid vitamins are much harder to overdose on and are less likely to cause damage than adult vitamins.
Furthermore, it is important to remember that diet supplements are not tested and regulated like prescription drug products. Problems with safety, contamination, and quality are common with these products, even if purchased from a reliable source. Visit the Growing Healthy Together Fullscript page for a look at the vitamin and mineral supplements that we prefer. 
---
Vitamins
Finally, it can be hard to include the right balance of vitamins your kids need through food alone. Therefore, it's always important to provide good, balanced meals for your little ones. Because of dietary differences, families who are vegetarian or vegan may need to rely on supplements for some of the vitamins found in meat and/or dairy. Additionally, if your child has bad eating habits, they may require supplements.
For those interested in the minimum RDA (Recommended Dietary Allowances), refer to the National Institutes of Health Nutrient Recommendations.
Also, if you are unsure about your vitamin/mineral levels, a lab test can identify if you or your child are deficient. If you choose to provide nutrients in the form of supplements, it is still important to maintain good health in other ways. And, as always, keep all supplements out of the reach of children.
And for a more in-depth look at deficiency and toxicity, check back in on our blog series, including the following:
Finally, for questions or concerns, please respond to this blog or contact us.